What the Wiser Plug does
From the kettle to the slow cooker that's got tonight's dinner in, the smart plug gives you an instant status check, perfect for those 'did I leave the iron on?' moments. The plug works seamlessly alongside all our Smart Thermostat & Multi-room Kits too. And it has a built-in signal range extender that boosts the signal to all Wiser devices.

Control everything from your Wiser Home app

Control lamps while you're away for added security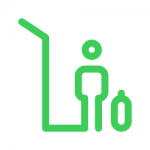 Syncs with Wiser's Away Mode – if you want it to

Boosts signal between your Wiser devices

Add up to 10 plugs per system

Works with voice assistants and IFTTT
Give your home a little boost
Taking care of your Wiser connectivity, the Wiser Plug can help to enhance the signal between your devices. Perfect for larger homes or homes with thicker walls where your HubR might be sited further away from the devices.
Smart plugs make life easier. Simple
Schedule the hall lamp to come on before you get home. Turn off the bedroom lights last thing at night. Leave the 'did I switch that off' panic at the door with the easy status check of a plugged-in appliance. You can even cook tonight's dinner. Smart plugs are here to make life easier. 
With a whole list of uses that are suitable for every room, you can control them from your app, or using Amazon Alexa, Google Assistant, and IFTTT Integration options.

Light up your life
Lamp on. Lamp off. Brilliant for taking care of security, kids' bedtimes, and even better for taking care of energy savings for the planet – when connected to a smart plug you can control lamps at home or away. Schedule 8 ON/OFF events every day straight from your app.
Sync up with Away Mode to save energy and control more efficiently. Maybe your plans change, and you'll be home later. Easily switch lamps on, from anywhere, anytime.

Check your appliances
Smart plugs stop that sinking feeling in its tracks. Check on the status of everything from the hair straighteners to the iron as quick as a flash straight from the app and avoid the panic, every time. You'll be able to switch them on or off as you need.

Even cook the dinner
Smart plugs can even help with dinner. If you've got a slow cooker, you can add it to your app, and then set the cooking time from there. Coming home to a perfectly cooked dinner from the app? Count us in.
---
---
Sign-up
Sign-up to our mailing list for the latest energy saving tips, product news and special deals from Wiser.