Smart Plugs for Your Smart Home
As the perfect complementary product to enhance your smart home, our smart plug works alongside any of Wiser's Smart Thermostat & Multi-Zone Kits to offer complete control of electrical appliances. In addition, you'll benefit from the built-in signal range extender in every one of our smart plugs which boosts signal to all Wiser devices. 
Set schedules via the app – 8 events per day

Range extender boosts signal to all Wiser devices

Quick commissioning via the Wiser Heat app

Voice command compatible with Amazon Alexa, the Google Assistant and IFTTT

Add up to 10 smart plugs per system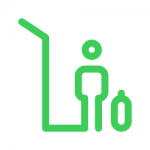 Works with Wiser's Away Mode
Use the Smart Plug by Wiser to extend signal range
Not only does the Wiser Plug provide convenient control of electrical devices from your phone, it also enhances your Wiser heating system by boosting the RF signal across your home, enabling better connectivity of other Wiser devices wherever they are.

As well as remote control of electrical devices, the Wiser plug has the added benefit of a built-in RF signal range extender, providing better connectivity for Wiser devices further away from the HubR.
We recommend the use of at least one smart plug for larger homes or those with thick walls, to fully benefit from multi-room heating control.
Make Life Easier With Smart Plugs
Whether you want to add schedules, activate devices remotely, or just check the status of an appliance, the Wiser Plug is the easy way to stay in complete control. With a variety of innovative uses that are Suitable For Every Room, our smart plug offers peace of mind for the whole family. With easily accessible voice command features available from Amazon Alexa as well as the Google Assitant, and IFTTT Integration options, you'll be able to discover the true convenience of smart plugs!  

Control the lamps in your home
Improve security by scheduling your lamps to come on when you're away, by creating up to 8 on/off events per day via the Wiser Heat app. You can also help your little ones to have a sound night's sleep by controlling their night light from the app. Thanks to smart plugs from Wiser, you'll no longer need to tiptoe past them!

Check your appliances
Ever had that sinking feeling that you've not turned off appliances like an iron, hair straighteners or the slow cooker? Enjoy complete peace of mind when using smart plugs with these devices by checking the status of your electrical appliances via the Wiser app, and switch them on or off as needed. Never have that 'what if' worry again with smart plugs from Wiser.

Perfectly planned meal times
Take control of your slow cooker from anywhere when used with a smart plug. Prep your ingredients in the slow cooker then simply set a schedule to the required cooking time, even when you're not home, for meals cooked to perfection and ready right on time. Total convenience, total enjoyment!
Buy your Wiser Plug today...