Clever features with Wiser
Inspired by the iconic design of the Drayton TRV4, the Wiser Radiator Thermostat maintains the simplistic style and builds on years of success as a leading TRV manufacturer with a host of additional features that allow room-to-room heating control.

Individual room control
App control

Works with Amazon Alexa & the Google Assistant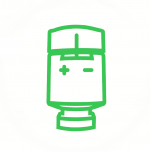 Twist-top boost

Device lock
Easy upgrader. Energy saver. Wiser.
If you have existing TRVs, your upgrade to Wiser Radiator Thermostats couldn't be easier.
Mount on to existing radiator valves
Simply screws on - ring nut provided
Battery operated – no wires no fuss
Adaptors provided
Add up to 32 per system
Multi-roomer. Signal booster. Wiser.
Larger home? Or thick walls? Boost the RF signal to all Wiser radiator thermostats by adding a smart plug.
Not only will you enjoy all the benefits of multi-room control without the inconvenience of lost signal, but you can control and schedule electrical devices connected to the Wiser plug, in the Wiser Heat app alongside the rest of your smart heating controls.
Our Multi-zone Kits & Products
The radiator thermostat is available as part of our Wiser multi-zone kits, or to buy on it's own. Read more about our kits below or use our product selector to find the right one for you. A full list of stockists is available on our Where to Buy page. 
Wiser Multi-zone Kit 1
The perfect solution if you have a combi boiler (no separate hot water control).
One 1-channel Heat HubR
One Room thermostat
Two Radiator Thermostats
RRP £219.99
Wiser Multi-zone Kit 2
This kit's for you if you have a conventional boiler (with separate hot water control).
One 2-channel Heat HubR
One room Thermostat
Two Radiator Thermostats
RRP £229.99
Radiator Thermostat
Add extra smart radiator thermostats to every radiator in your Wiser system to maximise comfort and convenience.
Ring nut included
Adapters included
Batteries included
RRP £44.99 each
Use our Product Selector to find the right kit for you
Find out more