Make your radiators smarter
Looks good. Does good. The Wiser Smart Radiator Thermostat is a small-but-mighty addition to your home heating. Built with multiple sensors for pinpoint accuracy, you'll enjoy seamless room-to-room heating control straight from the app. Or with a little help from Amazon Alexa or the Google Assistant.

Individual room control

Easy to install – fits on most existing radiator valves

Control from anywhere with your Wiser Home app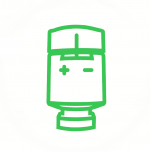 Award-winning twist top boost with spring back

Multiple sensors for optimum temperature accuracy

Works with Amazon Alexa and the Google Assistant
Make sure you're getting the most out of your Smart Radiator Thermostats with our recommendations for installation.
Our set-up advice
Smart heating goes multi-room
Our radiator thermostat works seamlessly with most existing thermostatic radiator valves (TRVs) in your home. So, it's easy to upgrade to Wiser and start managing your energy use in every room. You'll be taking care of your pennies in no time.
Iconic design
Simply mount onto existing radiator valves
Ring nut and adaptors included
Fuss-free battery operated – no wires
Add up to 63 devices per system
Need a boost? Add a smart plug
Made for large homes and thicker walls that can interfere with radio frequency (RF) signals, give your Wiser Smart Radiator Thermostats a boost with a smart plug. Its built-in signal range extender amplifies signal to all Wiser devices. Made for homes that need a little extra help.
As well as enjoying uninterrupted signal strength between your devices, you can also control and schedule any electrical devices connected to the plug. Sync up with your Wiser Home app and manage alongside the rest of your smart heating controls.
Buy your Wiser System from the Wiser shop
Extended 3-year warranty

30-day no quibble money-back guarantee

Free delivery & returns
Our Multi-zone Kits and Products
Whether you want control over one radiator, or a whole home's worth - let's find the right Wiser product for you. The kits below include a HubR, Smart Room Thermostat and two Smart Radiator Thermostats, which one, just depends on which type of boiler you have.
Find a stockist, Where to Buy, or go to our Product Selector page to find the right Wiser for you.
Wiser Multi-zone Kit 1
When you've got a combi boiler in your home with no separate hot water control.
One single-channel HubR
One Room Thermostat
Two Radiator Thermostats
RRP £219.99
Buy today
Wiser Multi-zone Kit 2
The multizoning kit for homes with a conventional boiler with one heating zone and separate hot water control.
One two-channel HubR
One Room Thermostat
Two Radiator Thermostats
RRP £229.99
Buy today
Extra Smart Radiator Thermostat
For only £44.99 per radiator (RRP), you can take care of every radiator in your home and benefit from multi-room control with your Wiser system.
One radiator thermostat
Valve adapters and ring nuts
Simple install (fits onto most existing valve bodies)
Batteries included
RRP £44.99
Buy direct today
Need a little help finding the right kit for you? Our product selector is here to help.
Find your kit
Save with our new multipacks
You've got the system. You've got the radiators. Now there's a simpler way to achieve full multi-room control. The Smart Radiator Thermostat Multipack comes with three radiator thermostats and saves you money, available exclusively on Amazon now.
Turn your Radiator Thermostat into a smart world
When it comes to Wiser, even the smallest products can have the biggest impact. Like our Smart Radiator Thermostats. They work with the entire Wiser product range, so you can build yourself a whole Wiser heating system to suit your lifestyle.