A multi-room solution
Wiser is made up of three key parts; room thermostat, radiator thermostat, and the app. These are all linked by the brains of the operation – the Heat Hub. You'll only ever need one of these and it comes with whichever system you choose so don't worry about that. 
Wiser gives you the option of multi zone heating controls, so that you can build your wireless heating system as you go and tailor it to your personal needs.
01.
Start with your room thermostat for central smart control…
The Wiser Room Thermostat enables you to wirelessly control your heating from anywhere in the world via your smartphone.
02.
Then decide if you want to go further and add radiator thermostats...
The Wiser Radiator Thermostat allows you to control the temperature and schedule in individual rooms.
03.
Keep adding radiator thermostats until every room has one
By adding a Wiser Radiator Thermostat to every room you can build a multizone heating system that allows you to benefit from ultimate comfort and maximum energy savings.
Then you can do this...
Keep it cosier in the lounge

Make it warmer in the bathroom

Keep it cooler in the bedroom

Lower bills in the spare room
Smarter features with Wiser
Wiser incorporates innovative smart features to make your life easier and more comfortable.
The App
The Wiser Heat app enables you to control your heating from anywhere in the world via your smartphone. As Wiser utilises wireless heating controls, all functions are only a swipe away wherever you are, which makes staying in control of your heating and hot water simple. 

Voice Control
Wiser works with voice assistants such as Amazon Alexa and the Google Assistant so you can just ask when you want your heating or hot water adjusted.
Find out more about smart home features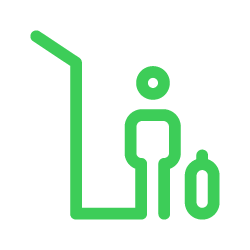 IFTTT Compatibility
Wiser integrates with the 'If This Then That' (IFTTT) platform to enable features such as geofencing. IFTTT links smart products and apps by setting up a series of triggers and actions. You can access and make use of the Wiser Applets or create your own unique recipes by linking Wiser to your other apps – the opportunities are endless.

Eco Mode
Combining weather compensation and optimum stop, Wiser ensures you never waste energy by over-heating your home. By learning how long your home takes to react to temperature changes, and how the weather outside influences this, Wiser will find the most economical way to run your system. Just set your desired temperature and leave Wiser to do the rest. 
OpenTherm
In simple terms OpenTherm enables more energy efficient control of your heating system. It's a digital interface between the boiler and your Wiser controls that enables energy savings and other clever diagnostic features.